Meder Beauty Science
Delivery in 2-3 working days
Regular price
Sale price
€244,00
Unit price
per
Sale
Sold out
Peptide-based Myo-Fix Frown Control Set allows wrinkle control without injections. Visibly smoother forehead right away, stable results after 5-week use.
Suitable for

Suitable for Dry, Normal, and Oily Skin
How it works

Myo-Fix was one of the world's first effective non-injection mimic wrinkle correction treatments launched in 2009 in Switzerland.

Beauty clinics all over the world offer a 5-week treatment course for the correction of mimic wrinkles and fine lines as an alternative to clinical treatments.

After a 5-week course of Myo-Fix Concentrate and Mask you can expect at least 6 months of smoothed wrinkles, brighter complexion and wrinkle prevention.

Unlike injectables, Myo-Fix Frown Control Set does not paralyse the muscles and is completely safe at any age, during pregnancy and breastfeeding. With Myo-Fix Frown Control Set you retain full control over your facial expression, while losing the unintentional micromovements that lead to the formation of forehead wrinkles.

If you have already had injections, you can absolutely use Myo-Fix too in-between your clinical courses to prolong and maintain your results in a safe and painless way.

Innovative neuromodulating peptides Argireline, Syn-Ake, and Leuphasyl work in synergy, immobilising mimic muscles of the forehead and around the eyes, erasing wrinkles and fine lines quickly and effectively. Week by week, the skin becomes smoother with wrinkles visibly reduced.

Each Myo-Fix Frown Control Set contains 3 full-size skincare products.
Key Ingredients

Please see in the specific products descriptions.
How it looks

1. Enzy-Peel Double-action Peeling Mask (50ml) - white odorless cream with abrasive particles.

2. Myo-Fix Concentrate (15ml) - white odorless gel.

3. Myo-Fix Masks (5 pieces) - fabric mask made of unwoven bamboo fiber impregnated with transparent odorless matrix gel."
Share
View full details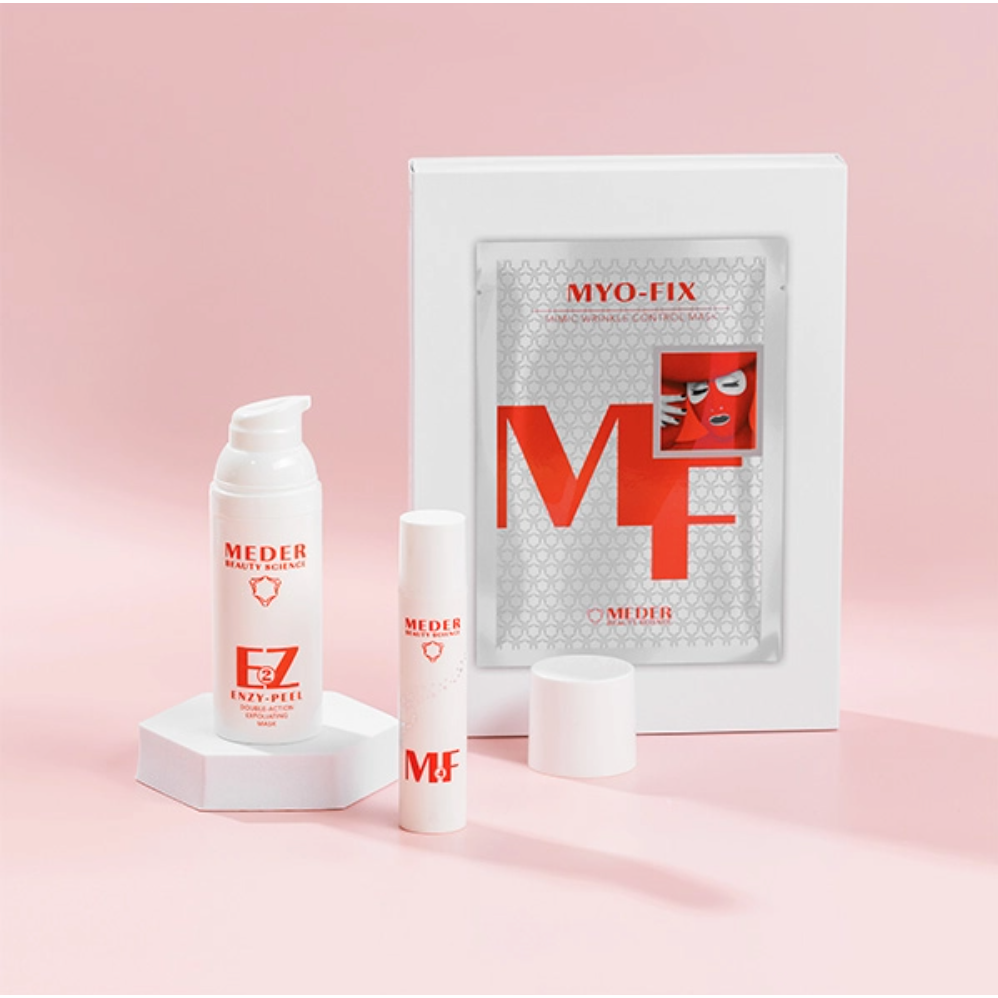 Instructions
How to use
Exfoliate weekly with Enzy-Peel Mask. Apply Myo-Fix Concentrate directly to the lines you want to smooth every day, morning and night. Finish the treatment with Myo-Fix Anti-Wrinkle Mask once a week. Do not be alarmed if your skin feels a little frozen after the treatment! Peptides immobilise the muscles superficially only where it is necessary – at their points of connection with the skin. Enjoy your fresh look and continue to use Myo-Fix Concentrate on daily basis to obtain the best results.
TheFaceFace focuses mostly on professional skin care which requires an online skin consultation for best results.
Book Online Consultation
Choosing a selection results in a full page refresh.